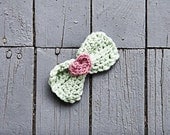 Nothing says love quite like a sweet bow barrette clip adorned with a coordinating heart!
These barrette clips are crocheted in beautifully bright, yet elegant colors that fit beautifully with almost any outfit. Wearing one of these is certain to solidify that classic style which appeals so strongly to so many women.
The bow on this clip measure approximately 4 inches across and, at mo...
Click Here to Visit My Etsy Shop!
<!-- NERDWALLET-80109386 -->
<a href='http://www.nerdwallet.com/discounts/store/handmadehappies' target='_blank'>Handmade Happies Coupons on NerdWallet.com</a>