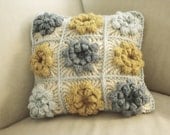 New item!
Crocheted Granny Square Pillow
This super soft pillow is hand-crocheted with love from 100% wash and dryable acrylic yarn. The colors are a soft, sky blue, and muted antique blue and a marigold wrapped in a slightly yellow tinted beige. The back of this pillow is a solid sky blue. The flowers of these pillows are baubles, giving the design a three dimensional effect.
The pillow form use...
Click Here to Visit My Etsy Shop!